Shop Hemi Builds
A2Speed/BG Performance HEMI Performance Shop Builds
Looking for a reliable, affordable, and knowledgeable HEMI performance shop? A2Speed/BG Performance is a full service tuning and installation shop, with state of the art equipment, and industry leading experience. Our team consists of individuals like David Kasper, A2Speed's (Chief Operation Officer) a former Chrysler calibration engineer, and certified viper tech, with over 30 years of proven experience on the Dodge/Chrysler/Jeep platform. David Kasper was the originator and leader in late model (GEN 3) HEMI tuning. BG Performance is your one stop tuning solution for all your Chrysler, Dodge, Jeep vehicles 1996 to present. Our team also consists of talented people like Eric Hruza, founder of the Arrington Performance aftermarket program, and served as that company's president from its inception through early 2015. Eric is A2Speed's CEO and heads up new product development. Don Yates, the sales manager, has served customers in the late model HEMI community for years with his deep knowledge of the best combinations to extract power at the best prices.
We utilizes partnerships with other high profile, leading edge HEMI companies like Ray Barton Racing Engines, Thitek Performance, Molnar Technologies, Edelbrock, and many others to bring to market products like our full line of HEMI stroker engines. What does that mean for our customers? Well, every product we offer is backed by years of HEMI performance knowledge, and that many of pioneers for the HEMI industry stand behind our products performance and reliability.
Hellcat Challenger with our Stage 1, Hellcat Package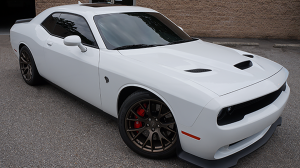 This Hellcat came to us looking to pick up more power and get a little closer to its potential; Of course we delivered! This is one bad Hellcat that burns up the street and ended up cranking out 840+RWHP. Our Hellcat Staged Packages know how to unleash staggering power on the streets as well as the track!
Hellcat Challenger with our Stage 2, 4.5L Whipple Hellcat Package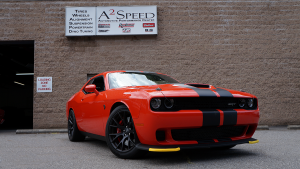 Our customer was looking for a 93 octane 850 RWHP daily driver. Our stage 2 Hellcat package was the logical option. This build features a Whipple 4.5L Hellcat Supercharger, Fore fuel system, and a few other goodies! We are absolutely impressed with these 4.5L units, they provide incredible power right from the get go, and leave so much room to grow! Give us a call today to reserve your stage 2 Hellcat package today!
2016 Hellcat Charger with A2Speed's Stage 2, 4.5L Whipple Hellcat Package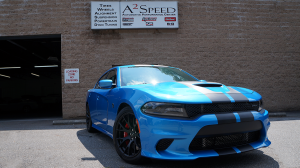 This Hellcat is in for our magic touch. The owner is going with our stage 2 Hellcat package with the upgraded cam option. It turned out to be a monster. This kit includes a Fore Duel pump fuel system, the Whipple 4.5L Hellcat supercharger, and an our custom cam. The customer also got a TCE-15 inch break conversion and a set of sticky Mickey Thomson slicks.
Eric's Dodge SRT 392 Dodge Charger Bolt On Package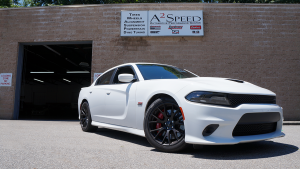 Eric brought his dodge charger up to us for a few minor bolt on upgrades. Eric did'nt want to unlock the PCM yet, or have to get the vehicle tuned, but still wanted a few more pony's. We made it happen for him with an 85mm A2Speed Billet Throttle Body, and a Legmaker True Cold air intake. We got a 40 WHP gain for under $1,000 without any tuning required!
Rick's Dodge Challenger Shaker R/T Hellcat Short Block Conversion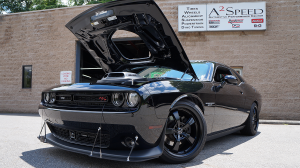 Rick decided it was time for more power out of his supercharged shaker. The path he decided to go was to beef up his bottom end, add a fuel system, and turn the boost up. He made the jump to a Hellcat short block because it added more displacement while allowing him to run more boost. One more happy Hellcat short block swap customer, and another bad ass challenger on the streets!
6.4L Supercharged 2017 Dodge Challenger TA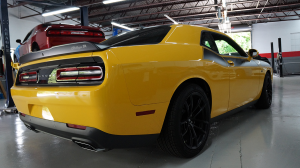 This 2017 Dodge Challenger T/A features a Magnuson 2300 roots type supercharger. The supercharger sits on a bone stock 6.4L hemi, and has some help pushing the additional airflow out the exhaust with a set of kooks long tube headers. This package is perfect for the people looking for significant power increases over the stock 6.4L, adding 125-150 RWHP. Supercharging is the absolute best bang for your buck performance wise.
Whipple Supercharged Dodge Challenger RT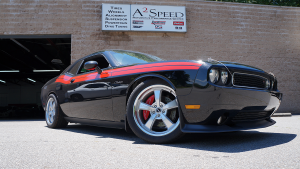 This Whipple Supercharged Dodge Challenger is in for a custom Chassis Dyno Tune. It came out very clean and OEM like. This build is prefect for any 5.7L HEMI owner that wants more power but doesn't want to spend an arm and a leg to get there. With just this 2.9L Whipple supercharger this 5.7L is putting down over 500 RWHP. Best of all the power band is extremely linear and the supercharger is extremely well behaved. Boost is predictable and can be easily controlled with the throttle..
Al & Nancy's 2015 Hellcat Dodge Challenger Head & Cam Upgrade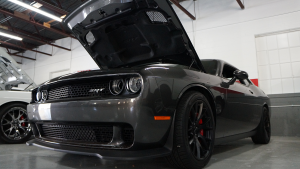 For this build we have one of our Owners personal car's in the shop. Al already had an upper and lower pully, with larger injectors installed. We are taking it to the next level with our Thitek ported heads, and an our custom grind camshaft by Comp Cams.
Carl's 2013 R/T Challenger Build with our first 105mm HEMI Throttle Body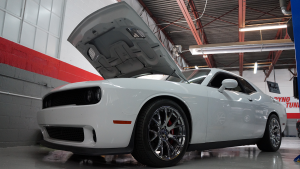 Carl came to us looking for help on a custom throttle body set up for his build. Well as it goes with most Mopar guys Carl had a few other projects in mind. He'll be leaving our shop with a custom Throttle Body, and a few other powertrain goodies as well!
John's 6.1L Based 426 Whipple Supercharged Challenger Coming Soon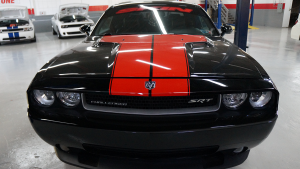 John came to us looking for a Ray Barton built engine 426 engine that can handle anything you throw at it. We are giving him just that, with a custom built 426 HEMI featuring custom Diamond piston's, billet main caps, and much more. Top that with a Whipple supercharger and you have a recipe for one bad ass Challenger.
Big Red; Luke's Optima Ultimate Street Car!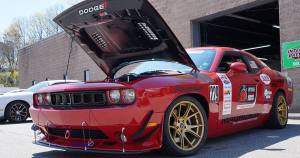 If you ever doubted that a Challenger can handle it's self on a road course, then you need to check out BIG RED. Luke of Steve White Motors has trusted A2Speed/BG Performance with his Optima Ultimate Street Car for everything ranging from bolt on's, a full set of our Coil Over Suspension, and Custom Chassis Dyno Tuning. He brought his car up to us this time because he was having limp mode issues with a competitor's cast VDO style 85mm true bore throttle body. It was replaced with one of our true 90mm Magneti Marelli throttle bodies and got a custom Chassis dyno tune. The results netted Luke an additional 36 HP over our competitors 85mm and that's only half the story, at 3850RPM he gained a staggering 88 HP. When considering upgrading throttle bodies, do yourself a favor and do it right the first time. We offer real gains, no false size advertising, no magic mystery sauce, just results.
Greg's 5.7L to Hellcat Short Block Swap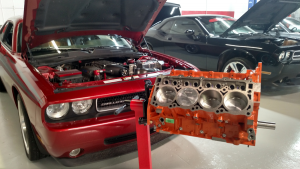 Greg brought his already supercharged 5.7L Dodge Challenger R/T to us looking for more power. After reviewing the possibilities he decided to try something that hadn't been done before, swapping a 5.7L short block with a 6.2L Forged Hellcat Short Block. He kept the phase 6 ported 5.7L Eagle heads, the custom blower cam, and rest of his prior installed accessories.
1000+ RWHP 2015 Challenger with Ray Barton/A2Speed's 426 Long Block, Custom Build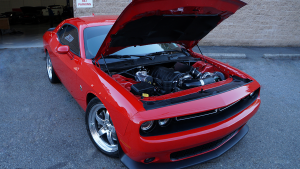 Johnny came to us looking to release the beast in his 2015 Challenger and man is this thing vicious! This ended up being a fairly extensive build which includes one of our Ray Barton/A2Speed 426 Long Block Engines topped with a ProCharger F1-A-94 Supercharger. This build is not for the faint of heart being that this monster is thowing down 1000+RWHP. Johnny was more than thrilled with the outcome of choosing our shop for his custom build!
Hellcat Challenger with our Stage I, Hellcat Package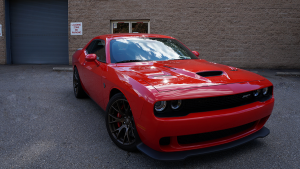 Our customer brought us his 2015 Hellcat Challenger looking to upgrade to our stout Stage I Hellcat Performance Package as well as to throw in a extra upgrade in a Hellcat Legmaker In-Take. As always our increasingly popular Stage I Hellcat Package did not disappoint with a gain of 150+RWHP! Once again another thrilled customer out of shop our doors!
Hellcat Challenger with our Stage I, Hellcat Package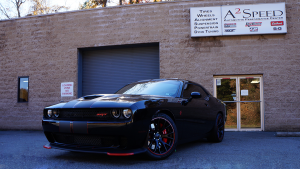 Our customer brought us his 2017 Hellcat Challenger looking to upgrade to our stout Stage I Hellcat Performance Package as well as to throw in a couple of other go fast upgrade; Which include a Hellcat Legmaker and a DSS 4" Aluminum Driveshaft. As always our increasingly popular Stage I Hellcat Package did not disappoint with a gain of 180+RWHP! Once again another happy customer out of shop our doors!
2013 5.7L RT Challenger Edelbrock Supercharged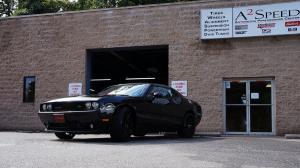 Our customer came to us looking to slap some extra go fast goodies in his 2013 5.7L RT Challenger. He topped it off with a Edelbrock E-Force 2650 5.7L HEMI Supercharger and added additional upgrades as well. This RT Challenger had a great gain in power while still keeping amazing street driveability.
Toymakerz Edelbrock Supercharged, 2015 Challenger RT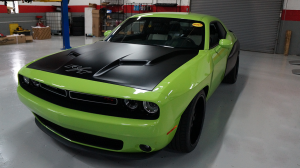 Toymakerz teamed up with us to build a one of a kind Dodge Challenger featuring some very special Edelbrock go fast parts. David Ankin approached us looking to take a bone stock 2015 Dodge Challenger RT to the next level, and we knew just how to make that happen. We started with a hellcat short block and added Edelbrock's new GEN III cylinder heads, their all new 2650 HEMI supercharger, a forced induction VVT camshaft, and much more. Top these awesome powertrain components off with a custom Chassis dyno tune and you have one bad HEMI powered vehicle. This Vehicle build can be watched on the Velocity TV Channel Toymakerz (Mopar Challenge Season 2 Episode 1)
2017 T/A 392 Challenger with In-House Chassis Dyno & Custom Tuning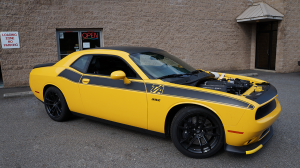 Steve White Motors brought us this beast for a custom tune on our in-house chassis dyno after their install. They strapped on a Magnuson 2300 Supercharger, Drop Inn Fuel System and a pair of Kooks Long Tube Headers.
007's 2013 Shaker Challenger with In-House Chassis Dyno & Custom Tuning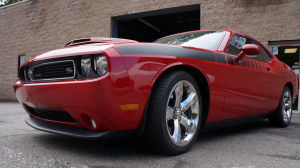 James brought us his 2013 Challenger RT to maximize his prior performance upgrades. He added a Edelbrock 2300 Supercharger Kit, Kooks Long Tube Headers, and one of our 85MM Throttle Bodies. All we did was add a Custom Tune with our In-House Chassis Dyno and once again another happy customer and car out of our doors!